For Immediate Release

February 18, 2014

Contact: Emily Ziedman

NGO Monitor

052-528-1500
NGO Monitor Highlights EU Funding of Anti-Peace Activity
in EU Parliament
Launches new report in advance of high-level meetings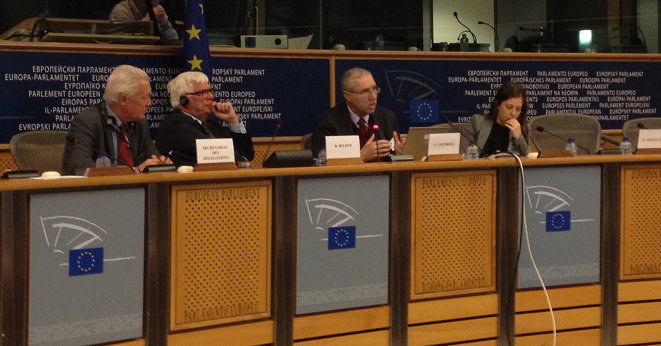 BRUSSELS- At a parliamentary session yesterday, under the auspices of the EU Delegation for Relations with Israel, NGO Monitor launched a
new report on EU funding for political advocacy NGOs in the Arab-Israeli conflict
. Prof. Gerald Steinberg, President of NGO Monitor, and Jody Sieradzki, head of NGO Monitor's Europe research, presented the findings, saying, "NGO Monitor's research documents major failures in EU policy and process. EU initiatives that claim to promote peace, human rights, democracy, and other moral values have become instruments for the immoral objectives of anti-Israeli political warfare."
Prof. Steinberg and Sieradzki are in Brussels for a three-day series of high-level meetings with European and Belgian officials. The main issue on the agenda is the need for a wide-ranging public debate, including hearings in the European Parliament, to facilitate policies that will
end the secrecy
with which European frameworks allocate funding to political NGOs. There is also a need for transparent, independent, and professional evaluation of EU allocations to NGOs, and agreed-upon guidelines on the appropriate uses of taxpayer funds. They will present recommendations to create a joint committee with Israeli MKs in order to develop guidelines on EU funding for Israeli NGOS.
During the session, Prof. Steinberg discussed the EU's highly disproportionate funding for NGOs active in the Arab-Israeli conflict through the European Instrument for Democracy and Human Rights (EIDHR).
As shown in NGO Monitor's new study
, in 2007-2010 (the last available data), NGOs in Israel and the Palestinian Authority received over 11 million Euros through EIDHR, 57% of EIDHR funding directed at the Middle East, while projects in Syria, Iraq, Iran, Oman, Saudi Arabia, and the UAE are largely ignored by EU frameworks such as EIDHR.
NGO Monitor's analysis of the EIDHR projects demonstrates a fundamental distortion in the EU's perception of Israel, which is almost exclusively restricted to relations with Palestinians and with the Israeli-Arab minority. Important issues related to democracy and human rights in the complex and unique Israeli context are entirely missing from this agenda.
Prof. Steinberg continued, "Taxpayer money is being channeled to organizations and activities that fuel the conflict, in violation of democratic principles. The EU can make a positive contribution to Israeli/Palestinian peace, but this requires a basic change in funding for radical NGOs."
EU funded organizations regularly employ demonizing rhetoric, campaign for anti-Israel boycott efforts (BDS), actively lobby international frameworks, and engage in lawfare activities. For example, in 2010,
the Israeli Committee Against House Demolitions (ICAHD)
, awarded an EIDHR grant of €169,661, presents a one-sided perspective on the conflict, including accusations of "ethnic cleansing," "genocide," "collective punishment," and "apartheid." Such political activities are inconsistent with the ideals and principles of EIDHR, as well as EU foreign policy.
NGO Monitor, an independent research institution, was founded in 2002 in the wake of the World Conference against Racism in Durban, South Africa. At this conference, 1,500 NGOs formulated the "Durban Strategy" which aims to isolate Israel through measures such as boycott, divestment and sanctions (BDS) campaigns, lawfare, delegitimization and demonization.
NGO Monitor (www.ngo-monitor.org), is the leading source of expertise on the activities and funding of political advocacy NGOs involved in the Arab-Israeli conflict. NGO Monitor provides detailed and fully sourced information and analysis, promotes accountability, and supports discussion on the reports and activities of NGOs (non-governmental organizations) claiming to advance human rights and humanitarian agendas.
-----
If you found this post interesting or informative, please
it below. Thanks!
Technorati Tag:
Israel
and
Europe
and
NGO's
.